Press Releases
April 4, 2018
Connect ONE®… It's All You Need

FOR IMMEDIATE RELEASE Connect ONE®… It's All You Need A single, complete management solution that meets all your customer's needs and lets you enter the profitable business of managed services. Crystal Lake, IL, April 4, 2018—Security dealers and integrators don't have the time or money to wade through dozens of security platforms and programs from various manufacturers. Think about all the training necessary for support, sales and technicians required when using multiple management platforms. It can become overwhelming. The single solution to meet the needs for all your customers and projects in every market ...
[Read More]
August 22, 2017
New Service for Dealers Who Want to Take Their Business to the Next Level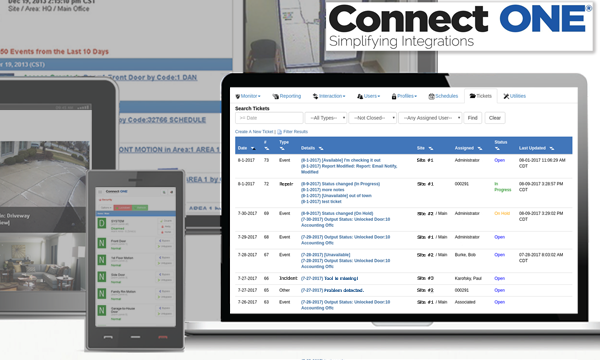 FOR IMMEDIATE RELEASE New Service for Dealers Who Want to Take Their Business to the Next Level Provide your building and facilities management customers automatic notification capabilities with easy and seamless tracking of service, critical events, and incidents with the new Connect ONE® ticket module. Security Sales & Integration - http://www.securitysales.com/business/automate-connect-one-ticket-module/ Crystal Lake, IL, August 22, 2017— The Connect ONE® module was designed in response to end-user customers looking for streamlined methods to track critical event responses, incidents and repair tickets at one or multiple locations. The module interfaces directly with the Connect ONE security system application ...
[Read More]
August 22, 2017
Federal Protection Inc. Lends Financial Customers Easy System Management with Bosch Control Panels and Connect ONE® from Connected Technologies, LLC [Hide]




Want to become a dealer?
For more information complete the short form to the right. Stop installing software, we'll show you how. Ask about becoming an authorized Connect ONE dealer.
Dealers get a free lifetime testing account for your security business so you can experience the simplicity and better understand how Connect ONE can help your company!