News Articles
September 6, 2017
The Connected Cloud -- September 2017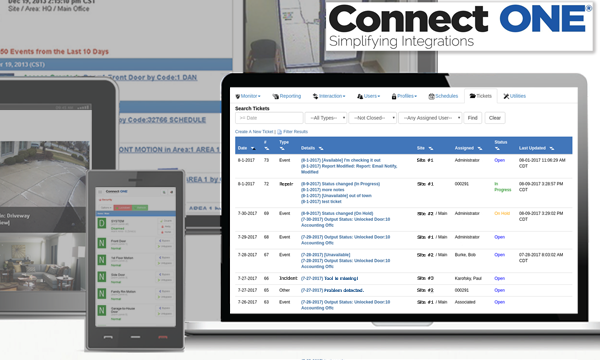 THE Connected CLOUD News, Feature Updates, Webinars, Events & Resources September 2017 New Service for Dealers Who Want to Take Their Business to the Next Level Provide your building and facilities management customers automatic notification capabilities with easy and seamless tracking of service, critical events, and incidents with the new Connect ONE® ticket module. The Connect ONE® module was designed in response to end-user customers looking for streamlined methods to track critical event responses, incidents and repair tickets at one or multiple locations. The module interfaces directly with the Connect ONE security system application or can be deployed as ...
[Read More]
June 8, 2017
The Connected Cloud -- June 2017 [Hide]




Want to become a dealer?
For more information complete the short form to the right. Stop installing software, we'll show you how. Ask about becoming an authorized Connect ONE dealer.
Dealers get a free lifetime testing account for your security business so you can experience the simplicity and better understand how Connect ONE can help your company!