Feature Blog
September 1, 2017
Code/Card Import Utility Expanded for Bosch B/G Series Control Panels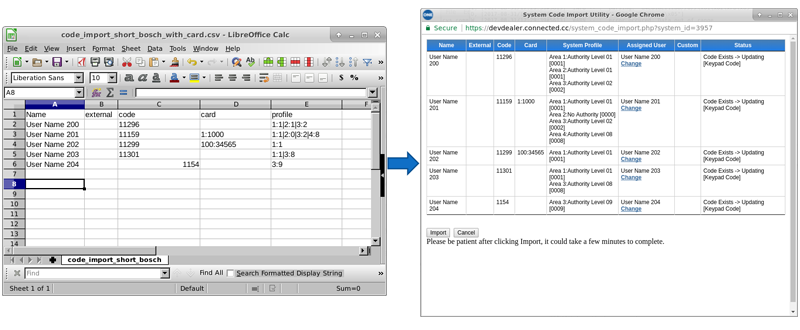 Now you and your customers with Bosch B/G series control panels can upload a list of codes and cards from a comma separated values (CSV) file. The file can include user name, code, card #, external card #, area authority levels, login profile, and up to 5 custom fields.
[Read More]
August 22, 2017
Provide your building and facilities management customers automatic notification capabilities with easy and seamless tracking of service, critical events, and incidents with the new Connect ONE® ticket module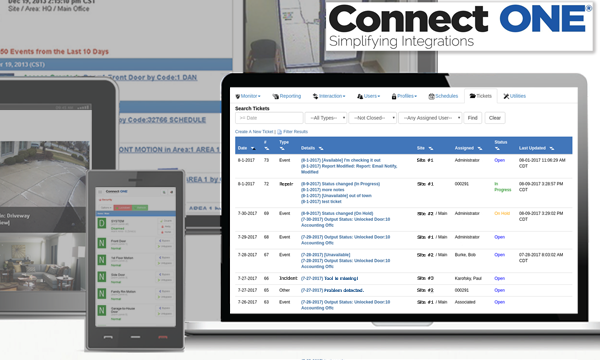 Service/Repair Tracking The module tracks service and repair tickets in real time, especially helpful in a large organization, facility or campus environment, ensuring prompt handling and remediation. It seamlessly notifies responsible parties with documents shared to all repair vendors simultaneously. It also stores the history of a repair and notifies responsible parties immediately of any actions taking place related to the service ticket. Incident Case Management The Connect ONE module tracks security related incidents and specific actions taken and remedies or if additional service may be required, including detailed reporting, work orders, history, photos, or other documentation uploaded ...
[Read More]
July 7, 2017
Customer Area, Door & Output Name Changes [Hide]




Want to become a dealer?
For more information complete the short form to the right. Stop installing software, we'll show you how. Ask about becoming an authorized Connect ONE dealer.
Dealers get a free lifetime testing account for your security business so you can experience the simplicity and better understand how Connect ONE can help your company!